Posted by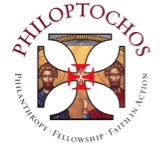 The Greek Orthodox Ladies Philoptochos Society, Inc.
126 East 37th Street
New York, NY 10016
Phone: (212) 977-7770
Email: administration@philoptochos.org
Web: philoptochos.org
Posted: 11.27.2019
Social Worker
New York, NY
The Greek Orthodox Ladies Philoptochos Society, Inc. invites applications for the position of Social Worker.
The National Philoptochos Social Worker will work closely with the National Philoptochos Executive Board and Social Services Chairs to serve clients who contact the Center of Philanthropy seeking assistance. In addition she/he will provide guidance to the chapters and metropolises, assisting them in meeting the needs of cases in their areas. It is imperative that the individual understands the mission and ethos of the National Philoptochos Society, has a service mentality and works with the utmost discretion, sensitivity and kindness. A Masters in Social Work degree is required. A working knowledge of the Greek language is preferred but not required.
To Apply
Applications will be accepted until January 10, 2020.
Please send Resume and accompanying documents to: administration@philoptochos.org