Posted by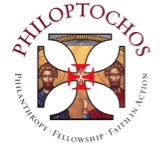 The Greek Orthodox Ladies Philoptochos Society, Inc.
126 East 37th Street
New York, NY 10016
Phone: (212) 977-7770
Email: administration@philoptochos.org
Web: philoptochos.org
Posted: 11.27.2019
Office Administrator
New York, NY
The Greek Orthodox Ladies Philoptochos Society, Inc. invites applications for the position of Office Administrator
The National Philoptochos Office Administrator is responsible for the smooth operation of the national office. In such capacity, the individual will supervise the National Philoptochos staff and work closely with executive leadership to ensure that the programs of the Society are carried out. In addition, s/he will provide guidance to the chapters and metropolises.
The successful candidate will have the following skills:
Ability to lead and motivate a staff
Strong written and communication skills
A working knowledge of software and database programs, particularly Microsoft Office
Highly organized
Ability to multi-task
In addition, the individual must demonstrate an understanding of the Society's ethos, mission, goals and programs. A bachelor's degree or higher is required. Prior work experience at a non-profit organization and a working knowledge of the Greek language are preferred.
To Apply
Applications will be accepted until January 10, 2020.
Please send Resume and accompanying documents to: administration@philoptochos.org